Corporate Sponsorships & Individual Donations
Honor Flight Bluegrass Chapter is a 501(c)(3) non-profit organization.
We are always searching for sponsors and donors. Veterans designated for an Honor Flight do not pay anything. The cost for a single veteran to fly and visit their memorials is estimated at $500 but that will vary due to increased fuel costs.
If you would like to become a corporate sponsor or a private, anonymous donor, then please contact our Chairman, jthoke@yahoo.com at 502-645-5421. You can email us at info@honorflightbluegrass.org.
We accept credit cards through our safe and secure Donate Now link button below.
We accept checks made payable to: HONOR FLIGHT BLUEGRASS
Mail your check to:
Honor Flight Bluegrass
PO Box 991364
Louisville, KY 40269-1364
---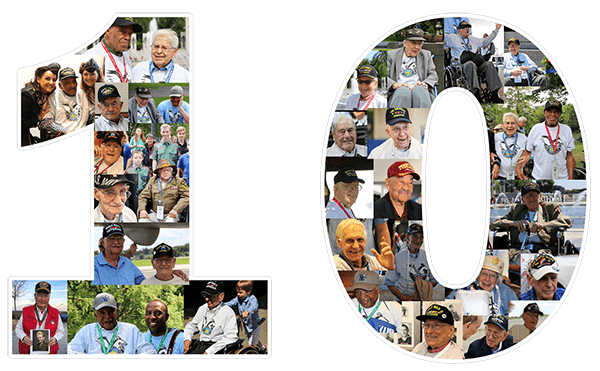 Celebrating
10

Years!
2019 Honor Flight Bluegrass Sponsorships
$75,000 Red, White, and Blue
Industry exclusivity (event specific)
Use of Honor Flight Bluegrass logo in conjunction with event sponsorship
Allocation of up to Six (6) Seats to serve as member of the Honor Flight Bluegrass Crew
Corporate name and logo listed on website with link to company page
Corporate name and logo on all advertising and publicity from date of commitment
Corporate name and logo on all social media platforms from date of commitment
Corporate name and logo on official HFB flight books and official HFB backpacks
Inclusion in all press releases
Inclusion in all quarterly newsletters for 2019
---
$50,000 Honor
Industry exclusivity (event specific)
Use of Honor Flight Bluegrass logo in conjunction with event sponsorship
Allocation of up to Four (4) Seats to serve as members of the Honor Flight Bluegrass Crew
Corporate name and logo listed on website with link to company page
Corporate name and logo on all advertising and publicity from date of commitment
Corporate name and logo on all social media platforms from date of commitment
Corporate name and logo on official HFB Flight books
Inclusion in all press releases
Inclusion in all quarterly newsletters for 2019
---
$25,000 Old Glory (Welcome Home Sponsor)
Use of Honor Flight Bluegrass logo in conjunction with event sponsorship
Allocation of up to Two (2) Seats to serve as members of the Honor Flight Bluegrass Crew
Corporate name and logo listed on website
Corporate name and logo on all advertising and publicity for the "Welcome Home"
Corporate name and logo on all social media platforms from date of commitment
Inclusion in all press releases in reference to the Welcome Home
Inclusion in all quarterly newsletters for 2019
---
$10,000 Stars and Stripes (Send-Off Sponsor)
Allocation of up to One (1) Seat to serve as a member of the Honor Flight Bluegrass Crew
Corporate name and logo listed on website
Corporate name and logo on all advertising and publicity for the "Send-Off"
Name/Company posted on social media (Facebook and Instagram)
Inclusion in one quarterly newsletter for 2019
---
$5,000 Patriot
Name/Company logo listed on the "In Honor of" page on website
Name/Company posted on social media (Facebook and Instagram)
Inclusion in one quarterly newsletter for 2019
---
Follow Us on Facebook and Instagram
Email Us at info@honorflightbluegrass.org